5th Generation Pokemon in Movie 11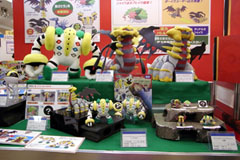 There is now strong evidence to suggest that at least one fifth generation Pokemon will debut in Giratina and the Bouquet from the Icy Sky, Shaymin, potentially even two.
At the recent 2008 Takara-Tomy (TakAra) Group Summer Dealer's Conference in Japan, new figurines and dolls were on display as promotional products for the 11th movie, including Regigigas, Dialga, Shaymin, and both of Giratina's forms. As you can see in the photo to the right (from Game Watch, a Japanese website; click the thumbnail for a larger photo), there are several question marks scattered around the product display, as well as some "blurbs."
Behind the Regigigas doll is a poster with each of the key players in the movie, along with a green oval in the center. The white text on that oval says "New Pokemon B," while the yellow text displays "First appears in the movie." Since they call it "New Pokemon B," there is possibly a "New Pokemon A" as well. The top of the poster appears to contain more information, but it is unfortunately cut off by the photographer. Since this poster shows all of the main Pokemon in the movie, the "New Pokemon" cannot possibly refer to any of them.
Below the Regigigas doll and next to the Giratina figurine is a giant question mark. The label below that question mark blatantly states "New Pokemon." Far to the right in the photo is yet another question mark as well. Could these two question marks be placeholders for figurines of the two new Pokemon? All of these products are set for release in July when the movie comes out, so it is likely that these new Pokemon are being kept secret for now until they are officially revealed.
Ruby and Sapphire came out in Japan on November 21st, 2002. Munchlax, the first fourth generation Pokemon, was revealed on May 15th, 2004 (its silhouette, that is). So, Munchlax was revealed about eighteen months after the previous generation was released, and was featured in the second movie of that generation (Destiny Deoxys). Diamond and Pearl was released on September 28th, 2006, and it is now April 2008. Nineteen months have passed since the previous generation, and we are now on the second movie of the current generation. If the pattern continues as with Ruby and Sapphire, it is time for a new Pokemon to be revealed.
Since this movie is packed with Pokemon enough as it is, any 5th generation Pokemon present will probably have the same type of role as Munchlax (as minor, cutesy characters). If anything, they will probably be Baby Pokemon or pre-evolutions of Pokemon already known.
If this evidence becomes reality, information on the new Pokemon will most likely come in through the Japanese magazine CoroCoro by next month's issue or the one after. When and if it does, we will have the information posted and translated here!