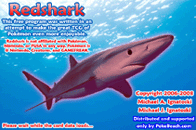 Redshark 2.0 – The [Great Encounters] version of Redshark is now available! You can download it by [clicking here]! One of the newest upgrades to the program is the ability to create custom cards, like with Apprentice. More updates and upgrades will occur in the future as well! For version 2.0's release notes, check out [Redshark's release history].
For those of you who do not know what it is, Redshark is an unofficial and fan-made program only available on PokeBeach that allows people to practice the Pokemon TCG on the computer and play against others over the internet. With Redshark, you can practice building and play-testing decks in case you do not have the necessary cards yet and you can play against friends over the internet when you cannot meet.
---
Official Shaymin Art in Famitsu Magazine – Shaymin's official [Ken Sugimori art] has been revealed in an internet scan of the March issue of Famitsu magazine, and you can see it here first! Click the thumbnail below for a larger image. If anything noteworthy is found in the scan, translations will be posted later in the morning. Coro Coro scans should also be released later in the week.