EDIT: Pokemon is #1 in almost all fields it is involved in. Read the story on Yahoo Business. The Trading Card Game is up 400% and is the #1 TCG in America, Diamond is the top-selling video game across all platforms, and when Season 10 premiered on CN, it was the #1 show for 6-11 boys all day on all channels. There are many more statistics in the article showing Pokemon's success. And those bratty children say Pokemon is dead…
---
Today was the official start of summer! Monday is the official release of Pokemon Battle Revolution! Two weeks from this day is the release of Shining Darkness in Japan! Late next week is hopefully the release of the site's new layout (don't count on it with my punctuality) and new content!
---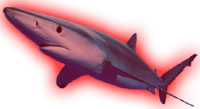 Redshark Updated with D/P – Our Pokemon TCG program, Redshark, has been updated to include Diamond and Pearl cards, as well as new features. For those of you unfamiliar with Redshark, it is a program that allows you to practice the Pokemon TCG on your computer and against other people online so that you can improve your game in real life. To download the Diamond and Pearl version (version 1.7 beta – 3.24 MBs), [click here]. You simply need to install it and overwrite any existing files when prompted (your deck files will remain), if you have downloaded it previously. The final (non-beta) release of the EX Power Keepers version, 1.5, is also available. The final 1.7 (DP) release will hopefully occur shortly,
depending on user feedback.
A note from the creator, Michael A. Ignatoski: Thanks to all who downloaded and tried Redshark, and a special thank you to those that posted or emailed their comments. Because of your feedback, bugs were identified and fixed, and some enhancements were added to the program. User feedback is a very important element that helps determine the content of future Redshark versions. So, please, keep voicing your Redshark opinions.
Below is how the program has been updated since the last beta version (this is not everything – more of how the program has been updated can be found in Help -> Release History):
Program Updates

Customize and save playmat color settings (Game -> Set Colors)
Customize and save playmat graphic settings (Game-> Set Graphics)
Re-order and shuffle cards in hand
A graphic re-design of the Action-Box
Update Action-Box info when lower stage Pokemon are clicked
Hover balloon now works in all List Boxes
Hover balloon now includes complete card info
New splash screen
New discard pile graphic

New Diamond & Pearl features

New Weakness & Resistance playmat graphics
Implementation of 'Hands-Off-Zone' (HOZ), as used in Empoleon Lv.X's Supreme Command Poke-BODY

Bug Fixes

Mouse cursor reverts to arrow upon leaving the Action-Box Imprison & Shockwave markers

Card Database

Fixed card errors for: Milotic (EM-8), Suicune (Promo-30)
---
Arceus in Action – Ride that horse! Someone has posted a video of shiny Arceus in Pokemon Battle Revolution. It is one of the last Pokemon sent out toward the end of the video in a quick battle against Uxie. Currently, Arceus is an unobtainable Pokemon (which means the one in the video was not obtained legally), but at least we finally are able to view the Alpha Pokemon in 3D!