EDIT: I have been busy with school, and will not be able to update until later tonight (on Friday). By then, I will have some Loo-car-e-o stuff up. Random news: In Diamond and Pearl, the female Pikachu sprite has a sort of "cut / split" at the tip of its tail, while the male will obviously look like previous Pikachu. Check back later tonight for an update!
---
Mi mama kindly went out to Best Buy today and bought me Lucario and the Mystery of Mew, which was bundled with the new Mastermind of Mirage Pokemon special. Tomorrow, if I do not have a lot of homework, I may post some "stuff" from the movie. ;)
---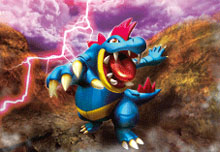 EX Dragon Frontiers Set Specs – We have new information on EX Dragon Frontiers! First off, there will be 67 Delta Species Pokemon and four regular Pokemon in the set. There will also be ten EX cards and two Pokemon-stars (Charizard, Mew). As for Trainer cards, there will be twelve of them, along with six special energy cards (Dark, Metal, Scramble, Boost, Double Rainbow, Delta Rainbow Energy?)! So for those of you who like to make set lists before the sets actually come out, there you go!
---
2006 Collector Tins – Gracias a Benlugia, we now have scans of the three EXs you can receive in the 2006 Collector Tins (the ones we reported about over two months ago). Click the thumbnails below for larger images.
---
PokeBeach Strategist Positions Open – Several of our Strategists are now busy with school and can no longer fulfill their duties, so we now have two positions open (and possibly more by the end of this week, although doubtful). If you feel that you have the mad skillz required to fill the positions, which means you will be writing one extensive card review each week, please private message DocRobot on our forums with your qualifications (and make a good impression). You MUST have good ranking in the TCG (as in, win stuff and place high a lot), use correct spelling and grammar (not grammer) usage, and be able to give out good advice to readers about cards (put all of your qualifications in your application). You must also be committed to writing every single week (you will know five weeks in advance what you will have to write, so you will have plenty of time), so if you miss one week, we will drop you. So, if you really think you can do it, PM Doc!