Read the previous news story if you have not been here lately.
---
EX Dragon Frontiers – The set logo and set description have been released! The booster packs are also shown, which feature Nidoking, Latios / Latias, Salamence, and Tyranitar. The set will be released November 8th.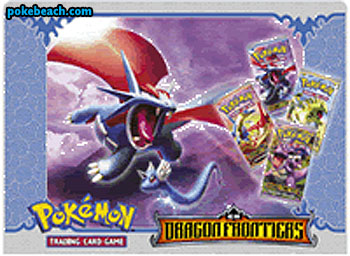 Journey further than any Trainer has ever been when you explore the islands where powerful Dragon Pokemon rule. In EX Dragon Frontiers you'll find rare Pokemon-ex Delta Species, long awaited Pokemon (star), and new ways to do battle like you've never seen before. Can you hear that distant roar? The Dragon Frontiers are calling you!

Every Pokemon is a Pokemon Delta Species!

Two new attack effects – Shock-wave and Imprison – that expand game strategy!

10 more powerful Pokemon-EX and 2 Legendary Pokemon* to find and play!

Exciting holographic parallel set for players and collectors alike!

Over 100 cards in all!