Tuesday – March 8th, 2005
Sorry for not updating for the past few days. I couldn't log in to the news program, but I found the problem and it has now been fixed.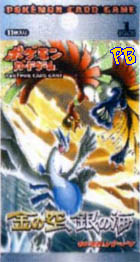 Golden Sky, Silvery Sea Booster Pack
An auction on E-Bay has put up for a Golden Sky, Silvery Sea Japanese booster pack, as seen to the right. (click for a larger picture) The artwork looks pretty cool, and hopefully, the booster pack is a reflection of what the artwork in the set will look like. To see the auction, you can [click here].
More Golden Sky, Silvery Sea Scans
New scans have been revealed on the Japanese Pokemon TCG website. They include Granbull, Quagsire, a new trainer card, and full versions of the Unown we posted earlier. You can see them below.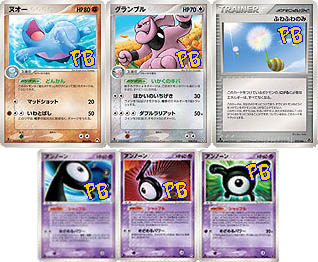 Lucario/Rukario's Official Image Revealed, 8th Movie Info
The official Pokemon 2005 movie website has been updated to include Lucario's true image, a trailer for the new movie, and some other goodies. To visit the website, you can [click here]. To see the trailer, which is available in a low-quality and high-quality version, you can [click here]. To see Lucario's full-body image, you can [click here].
Here is a synopsis of the movie:
"Centuries ago, a huge battle took place between the Reds and the Greens. It was stopped by The Wave Guiding Hero, who used the power of the Tree of Origin to stop it. Ash and friends have arrived in Rota Town, where celebrations for an ancient festival, held in the Oldoran castle, are taking place. Ash and Pikachu enter a battle to select this year's hero, and after a long and violent battle, Ash wins and become the year's hero. Suddenly, Mew appears (first as a Ho-oh), and snatches Pikachu, then disappears. Lucario, who has been sealed away for hundreds of years, then appears in front of Ash. What does Lucario want? Where does Mew take Pikachu and how is Lucario involved?
I find it strange how the Regi's are nowhere to be found on the entire website. I hope they will still be in the movie. Only time will tell as to what their roll will be in the movie, if they even have one.
That's it for today! Keep checking back for the latest info on Golden Sky, Silvery Sea, and EX Emerald!