Pokemon Space Party Update, Pokemon Apprentice Patch
Pokemon Space Party Update, Pokemon Apprentice Patch
By: [Water Pokémon Master] — Saturday – May 8th, 2004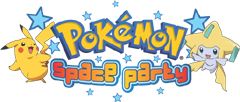 »Pokemon Space Party Update: In a previous news story, we reported to you that there was going to be a Pokemon Space Party at the Houston, Texas Space Center. Now, Pokemon.com has released some new info on the party. From May 29th to May 31st, Jirachi Wishmaker will be shown on the big screens at the party. Since the movie comes out on June 1st, people who see the movie will be the first in the United States. To read more about the Space Party, you can read the article at Pokemon.com by [clicking here].
»Pokemon Apprentice Patch: Well, it finally struck me that some people already have Apprentice and need a patch. So, I put one together that is updated to EX Team Magma vs. Team Aqua, as well as a background I made for Apprentice that you can use. Also included in the file is a Read Me on how to install everything. To download the patch, you must sign up in our forums by [clicking here], and then going to the Pokemon League forum under Apprentice League to get it. To sign up to be in our Apprentice League, read below this news story in the News/Event Reminders section for details on how to do it.
News/Event Reminders


»Be sure to sign up for our Pokemon Apprentice League in the forums if you have downloaded Apprentice. If you want to download Apprentice and sign up for our league, join our message boards by [clicking here], and then going to Pokemon League under Apprentice League and reading through the three topics, which is where you download it and sign up.