Pokemon Movie 7 Trailer, Kids' WB Pokemon Previews, State Championships, Site Stuff
Pokemon Movie 7 Trailer, Kids' WB Pokemon Previews, State Championships, Site Stuff
By: Water Pokémon Master — Thursday – March 10th, 2004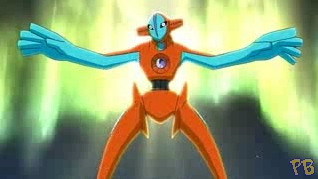 »Pokemon 7 Movie Trailer – Deoxys and Rayquaza: The official Pokemon 2004 Japanese website has been updated with a trailer of Pokemon 7! The movie is set to come out July 7th in Japan, and this has to be one of the coolest Pokemon movies yet! It will feature the legendary Pokemon, Rayquaza, as well as the space-virus Pokemon, Deoxys. What will the movie be like? Well, you can download the low-quality trailer (1.90 mb) by right-clicking [here] and clicking Save Target As or the high-quality trailer (7.54 mb) by doing the same thing [here]. Just be sure after you watch the trailer, you close your shutters incase Deoxys is peering in the window at you.

»Kids' WB Previews of Next Pokemon Season: This Saturday, Kids' WB will be showing previews of episodes from the next Pokemon season. There has been no other information given out to how they will show the previews, such as during commercials for example, so no one knows what they are going to do. You may remember last year when Kids' WB was going to do a so-called preview of Pokemon Advanced, when in fact they showed two episodes. So, it may be an episode or it could just be clips. Just be sure to watch Kids' WB this Saturday incase they show a clip during each commercial, and be sure to catch the new episode, A Mudip Mission!

»State Championships: Have you won your City Championship? Are you going to win your City Championship? Well then, you best look for the nearest Pokemon State Championship in your area so you can compete to be the best in your state. You also should read what you can win at the State Championships, as well as what you need to be prepared for. For the State Championship frequently asked questions, [click here]. For a list of State Championship locations and dates, [click here].

»Gym Challenge Scans Delay: The scans of Gym Challenge were planned to be up at the end of last week, however, I became distracted with the EX Team Magma vs. Team Aqua card scans. So, I am not sure when I will be able to scan the rest of them and get them up. Most likely, they will be up within the next week, so be sure to check back.

»February News Archive: The February News Archive is up. To view it, [click here].
Interesting Pokémon Fact


»Deoxys can change into two other forms, one being an offensive form, and the other being defensive.
Interesting Fact


»A lion's roar can be heard up to five miles away.