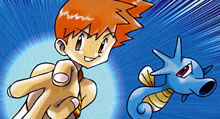 Redshark is an unofficial and fan-made program, hosted by PokeBeach, that allows Pokemon fans to practice the Pokemon TCG on the computer and against others over the internet. With Redshark, you can practice building and play-testing decks in case you do not have the necessary cards yet and you can play against friends over the internet when you cannot meet in real life.
Below, you can download the program with the latest Pokemon TCG set built-in. You can also read about Redshark and learn how to use it. Scroll down for frequently asked questions about the program.
Download Redshark
This will be our last release of Redshark. We will announce a new TCG simulator in October which supports card scans and online play through a server. Be sure to keep checking the front page!
The latest release is updated with Emerging Powers and was released on September 27th, 2011. It is version 4.10.
Choose the link of the operating system you are currently using. Right click and save that link, preferably to your Desktop.
[Windows Download (4.10)] | [Mac OS X Download (4.10)]
Installing and Launching Redshark on Windows
Download the Redshark program installer from above, preferably to your Desktop.
Once your download has finished, run the installer program.

If Upgrading: You will need to uninstall any previous versions of Redshark to install the latest version. Go to Start -> Settings -> Control Panel, click "Add or Remove" programs, then find and uninstall any Redshark listings (your deck files will be saved).

The Redshark installer window will open. Click the "Finish" button to install the program to the "C:redshark" folder.

If this is your first time installing Redshark, you will be prompted to create a new Redshark directory in your Program Files. Click "Yes" when the installer prompts you to do so.

Click "OK" once the installation has finished.
Launch Redshark from the Programs Files list in the Start menu (Start -> Programs -> Redshark -> Redshark). For easier access in the future, right-click the Redshark program listing, click "Send to," then click "Desktop (create a shortcut)." This will allow you to access the program from your Desktop.
Installing and Launching Redshark on Macintosh
Download the Redshark program installer from above, preferably to your Desktop.
If you have a previous version of Redshark in your Applications Folder AND you want to keep your decks that you already made, then you must move or rename the previous Redshark application before proceeding to Step 3. If you do not move or rename the existing Redshark application, you may lose all of the Redshark decks that you have created.
Simply drag the NEW redshark.app application to your Applications folder, replacing the previous one, if prompted.
Double-click redshark.app to launch the program. If you want to save your old deck files, you MUST start the program before going on to Step 5. Starting Redshark will attempt to create a "redshark" sub-folder in the "Documents" folder, in which to save and load Redshark deck files.
If you had previous decks that you wanted to keep, do the following:

Wherever you moved your previous copy of Redshark, right click on it and select "Show Package Contents" from the popup menu.
From the Finder window that opens, open the "Contents" folder, and then the "MacOS" folder within that.
Inside the "MacOS" folder, you should see your deck files. Leave this Finder window open for now.
Now open your Documents folder. Within that, you should see a Redshark folder.
You should now be able to use drag-and-drop to move/copy your old deck files into the "Documents/redshark" folder, where the new Redshark program will find them.

NOTE: Newer Mac versions of Redshark will automatically save your previous decks.
What is Redshark?
Redshark is a free computer application that allows you to play the Pokemon TCG on your computer. It is fan-made and is not endorsed by or affiliated with Pokemon USA, Nintendo, or any official Pokemon company. It is not meant to replace the experience of playing the TCG in real life – rather, it is a resource for players to practice the game when decks are incomplete or when friends are out of reach.
Redshark DOES NOT know or enforce the Pokemon TCG rules. This is the responsibility of the players. Mistakes and cheating can occur, just like in real life, so it is each player's responsibility to insure the game is played correctly as in real life.
Redshark was originally written to be a more Pokemon-friendly version of the Apprentice computer program. Apprentice can be used to play the Pokemon TCG, but because it was originally written to play the Magic The Gathering card game, its terminology is not like the Pokemon TCG's. Thus, it can be confusing to use. Most players who once used Apprentice have now migrated to Redshark because it is made specifically for Pokemon.
Redshark has the ability to create decks and play the game in a one-player solitaire mode or against an opponent over a network. It can also be played in a two-deck solitaire mode, allowing a person to use two decks to practice against themselves.
Redshark Program Requirements
Windows or Macintosh Operating System
Windows: Vista, XP, 2000, ME, and Win98
Macintosh: OS X (10.4 and 10.5)
Minimum screen resolution of 1024 x 768. The program WILL NOT RUN if this requirement is not met. To set your screen resolution to 1024×768 (or higher), right click your Desktop, click Properties, then click the "Settings" tab. There will be a slider under "Screen Resolution," which you can move to the right to make your screen resolution larger (including 1024×768).
30 megabytes of space.
General Help and Finding Opponents
The best way to learn how to play the TCG on Redshark is to start the program and look at the Redshark help file that is included in the installation. You can access it by choosing the "Redshark Help…" menu item under the "Help" menu. With enough time and practice the program will become second nature to use. However, once you get started it is pretty easy to get a hang of.
To report a bug, to get help, or if you have any questions at all, feel free to post a thread in our Redshark forum. You will need to create a forum account to post a thread first. You can also look through the aforementioned forum to see if your questions or problems have already been reported by others.
The Redshark forum is the best place to find players to battle.