Hello everyone!
In short, I've been building a team. I've needed a good Physical Sweeper, one that can set up and wreak havoc. While I was looking around, I found Golurk.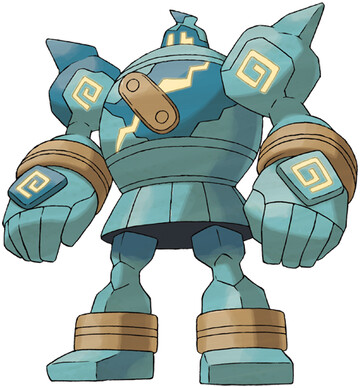 I've come up with a... "preliminary" set that I'd like thoughts on. Keep in mind I haven't played at all in the 5th gen metagame, I've only watched videos.
"Nightmare" Golurk @ Leftovers
Adamant Nature
No Guard Ability
EVs: 252 Attack, 252 Speed, 4 HP
Rock Polish
Dynamic Punch
Stone Edge
Earthquake
Allow me to explain.
No Guard makes Dynamic Punch actually feasible. Now, Golurk is Ground/Ghost. While Dynamic Punch doesn't get STAB and only has 50 power, the confusion matters. A Pokemon like Golurk that can be vulnerable can do a lot with confusion going for it. No Guard also helps with Stone Edge, actually allowing it to hit.
Rock Polish, aside from No Guard, is what makes this set work. If Golurk can either switch in on a Rapid Spinner or anything it can tank, get a Rock Polish up, and land the first blow, it can do damage. Dynamic Punch will allow it to confuse the opponent before it uses it's "real" attacks.
Earthquake is absolutely brutal on this set. With 381 Attack and a STAB boost, it's straight up deadly. Stone Edge is for Flying-types and also has a high crit-ratio.
All in all, I'm really just looking for a reason not to use Conkeldurr, lol. I think this set has potential and I'd like to hear what you guys think.
Thanks, I look forward to your input.