LOST DREAMS



Pokémon (13):
1 Radiant Charizard (beatdown)
1 Raikou V S12a SR (beatdown)
2 Cramorant S11 (beatdown)
2 Snorlax S10a (beatdown)
2 Sableye S11 (beatdown)
1 Manaphy S12a (protect)
4 Comfey S12a (draw)
Trainer (39):
4 Colress' Experiment (draw)
2 Boss Orders (control)
2 Raihan (accelerate)
1 Roxanne (draw)
1 Sky Sealed Stone (beatdown)
4 Mirage Gate (accelerate)
4 Scoop Up Net (retrieval)
2 Ordinary Rod (retrieval)
1 Lost Vacuum (discard)
3 Escape Rope (control)
3 Switch Cart (retreat)
2 Air Balloon (retreat)
4 Fog Crystal (search)
4 Quick Ball (search)
2 Training Court (retrieval)
Energy (08):
2 Lightning Energy
3 Psychic Energy
3 Fire Energy
STRATEGY:
Start with Comfey and use Flower Selecting to draw and fill the Lost Zone. Make sure to have two Comfey and one Cramorant out one the first turn. Fuel the Lost Zone with at least four cards and attack with Cramorant turn one. On the second turn use Comfey and Colress' Experiment to have seven cards in the lost zone to draw and activate Mirage Gate. Use Mirage Gate to fuel either Snorlax or Radiant Charizard. Continue to draw and fill the lost zone to activate Lost Mine. Sableye's attack is used to fix numbers and enable Entei V to uptrade with Sky Seal Stone on Pokémon Vstar and Pokémon Vmax. In addition Sableye can also be used to hunt consistency Pokémon for multiple prize knock outs.
SPOILER:
Sky Seal Stone
Trainer - Pokémon Tool
The Basic Pokémon V this card is attached to can use this Vstar Power.
Ability: Star Order (Vstar Power)
You may use this ability during your turn. During this turn, when damage from the attack of your Basic Pokémon V knocks out your opponent's active Pokémon Vstar or Vmax, take 1 additional prize card. You can only use 1 Vstar Power per game.
CARD SHARK: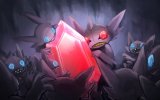 Pokémon:
1 Radiant Charizard:
This card is the cleaner of this deck. Once the opponent has taken three prize cards Mirage Gate allows Radiant Charizard to attack out of nowhere and knock out Pokémon Vstar in one hit with Choice Belt attached.
1 Raikou V:
Draw with Fleet Footed and attack for a low cost. Raikou V hits for a solid number and also has wekaness on relevant Pokémon Vstar in the current meta. He is often combined with Sky Seal Stone to uptrade with Pokémon Vstar and Pokémon Vmax.
2 Snorlax:
Snorlax hits for a solid 180 which knocks out all evolved and non-evolved one-prize Pokémon in one hit. In addition he also combos well with Lost Mine to knock out Pokémon Vstar in two hits and get other Pokémon within knock out range at the same time.
1 Manaphy
: Manaphy is used to protect the bench from Radiant Greninja and Raikou.
2 Cramorant:
This Pokémon attacks for free on the first turn due to the Lost Zone mechanic and provides some early game pressure.
2 Sableye:
Lost Mine allows you to place twelve damage counters on the opponent's Pokémon in any way you like once you have ten cards in the Lost Zone. This allows the deck to hunt down benched consistency Pokémon to draw two prizes at once. In addition Lost Mine can also fix numbers for Snorlax and Radiant Charizard and setups knock outs for Entei V.
4 Comfey:
Flower Picking is the main draw engine in this deck and can draw two to four cards each turn with the switch and retreat items used in this deck. In addition Flower Picking fills the lost zone and thus activates Lost Supply on Cramorant within one turn and the precondition to use Mirage Gate in one more turn.
Supporter:

4 Colress' Experiment:
Colress' Experiment draws five cards from the top of the deck. You can keep three of them and send the other two cards into the Lost Zone. This is the main draw supporter in this deck.
2 Raihan:
Since all attackers can be knocked out in one hit Raihan provides deck search and acceleration from the discard pile. It allows you to fuel Radiant Charizard out of nowhere or to fuel Raikou V and search for Sky Seal Stone to uptrade on Pokémon Vstar and Pokémon Vmax.
1 Roxanne:
Combined shuffle draw and disruption once the opponent has drawn three prize cards.
2 Boss Order:
Gust is needed in almost all decks and enables the deck to up trade against Pokémon Vstar decks.
Items:

4-4 Quick Ball and Fog Crystal:
Both cards can be used to search out Basic Pokémon. Quick Ball is the most universal Pokémon search card in this deck but Fog Crystal can also be used to search out Basic Psychic Energy at the cost of being limited to search for Psychic Pokémon.
4-3-3-2 Scoop Up Net, Switch Cart, Escape Rope, and Air Balloon:
Since Comfey is the main draw engine the deck uses multiple Flower Selecting each turn. All four cards help to achieve this aim. Scoop Up Net returns Comfey to the hand and resets its condition to be reused. Switch Cart is an upgrade to Switch in this deck since we only use Basic Pokémon. The deck also runs four copies of this card due to the retreat cost of the main attackers. Escape Rope switches both active Pokémon to the bench and serves as a counter to Empoleon V. Air Balloon allows Comfey and Oranguru to retreat for free which means that one can promote either of them whenever an attackers has been knocked out.
4 Mirage Gate:
This card accelerates energy to Snorlax, Radiant Charizard, and Raikou V once the deck has seven cards in the lost zone. This process also serves as a means to thin the deck and make Fleet Footed and Flower Selecting more effective.
1 Sky Seal Stone:
This tool enables Raikou V to use the Vstar Power Sky Order which allows him to uptrade with Pokémon Vstar and Pokémon Vmax. If Raikou V does not hit for weakness use Sableye to get the defender in range first.
1 Lost Sweeper:
Used to discard stadium cards and tools that block your attackers from knocking out the defender.
2 Ordinary Rod:
Recovers discarded Pokémon and Basic Energy.
2 Training Court:
This stadium retrieves discarded energies to fuel three of the four main attackers in this deck.
Energy:

3-3-2 Psychic, Fire, and Lightning Energy:
The deck runs an even break of Basic Psychic and Basic Fire Energy to fuel Radiant Charizard and Sableye early in the match. The Lightning Energy is intended to be used with Raikou V but can also be attached to fuel Snorlax. The three Basic Energies work rather well with Mirage Gate and ensure that it can be used to fuel the attackers fast.
Visual Decklist: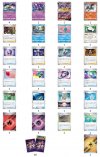 Last edited: