Hey fellow Pokemon Trainers!
I've been heavily in love with the Pokemon Trading Card Game for years, but recently just started taking it seriously and playing it.
I have joined many discords around PTCG and having to look up specific cards on Google to find a good quality picture to share with the folks during the discussion to be pretty annoying.
To solve this problem, I've created
Card Buddy
!
I'm hoping to expand and add more commands, but currently have the following:
$set : Prints out information about the set you are asking about!
$card : Displays a picture of the card in that set! (If you're doing GX or EX you need to do -EX or -GX after the name)
$altArt : Displays the alt arts of the specific GX / EX card! (Remember you need to do -EX or -GX after the name)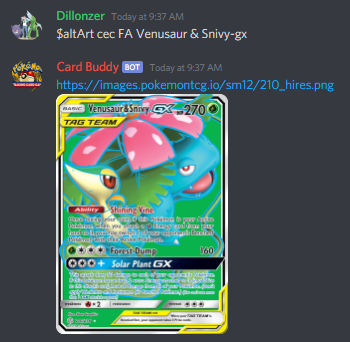 Feel free to add it to your discord community! I would love to get feedback and more ideas to grow this bot into something more for this community!!
It's powered via
https://pokemontcg.io/
which is an open source Pokemon TCG API created by
Andrew Backes
.