Introduction​
Base Set Evolution (formerly Base Set Neo) is a re-envisioning of the TCG, meant to blend elements of the Base-Fossil format with updated game mechanics, creating a unique experience enjoyable for players of either format.
Base Set Evolution is a standalone set featuring 200+ custom cards and a few imports from the TCG. How do we create an environment recognizable enough to Base-Fossil and Standard players, while being unique enough to offer a reason to play it? I've taken a few steps:
1. Pokémon HP and Retreat values are based largely on their video game HP and Speed stats. This undoes many years of HP creep and ensures each Pokémon "feels" like the right Pokémon. A low-HP Chansey or high retreat Electrode simply wouldn't make any sense. That said, I've given most final stage Pokémon a 20% HP buff to better reflect TCG gameplay. For example, Venusaur, with 80HP, instead gets 100 (80 * 1.2 = 96 rounded).
[Note: A few high-HP Pokémon, like Chansey, get no bonus]
2. To keep the game feeling modern, we introduce card types like Supporters, Tools, and Stadiums. We also feature Pokémon ex; while multiprize Pokémon are controversal, the eras of evolving 2-prizers are typically looked upon fondly (gen 3, gen 7 pre-tag teams).
3. A commitment to making Evolution Pokémon worth the deck space. Giving an evolved Pokémon 60hp and a 30-for-3 attack doesn't cut it when Hitmonchan and Scyther exist. Compared to the retro format, evolved Pokémon will be dealing more damage and take less energy; no more Kabutops 40-for-4 on a Stage 2.
Resources​
Want to view all of the cards? You can check them out here, split into 3 subsets!
Base Set Evolution - Fresh Beginnings
Base Set Evolution - Journey
Base Set Evolution - Lunar Eclipse
Looking to try the cards? Check out my mod for
Tabletop Simulator
!
Pokémon Design Philosophy: Revamp and Reconstruct​
Card designs for this set come in three categories.
(1) Cards that did well typically maintain their original identity. Particularly iconic cards get the ex treatment, while "goodstuff" like Retreat Aid Dodrio will remain largely unchanged.
(2) Cards that fell short, but had potential, get adjustments to damage, energy costs, and effects.
(3) Cards that would not be able to compete in the format are given new identities.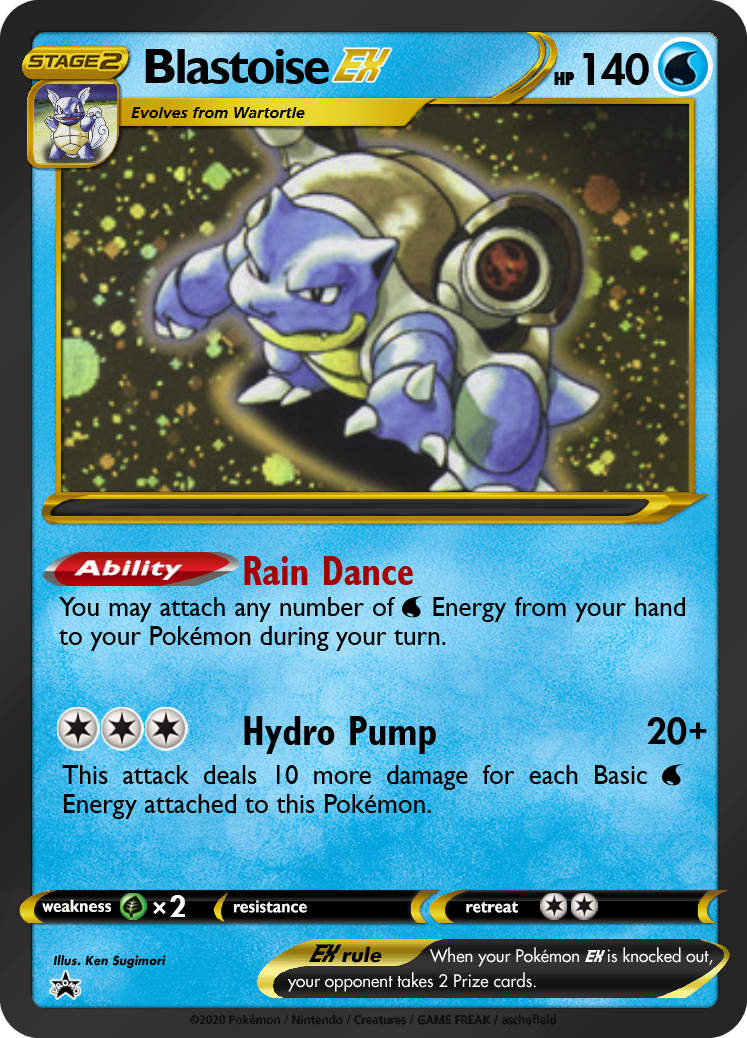 Blastoise ex is "uncapped": it has 140hp, Rain Dance attaches to any type of Pokémon, and Hydro Pump has no damage limit. Players new and old should both immediately recognize the impact this card will have once it hits the table.
Hitmonlee lived in the shadow of its brother, but it now embraces its identity as a dedicated bench sniper. High Jump Kick can fly past the Active Pokémon and score a key Knock Out, but if Hitmonlee keeps going, he'll crash! Note the extra [C] in Hitmonlee's attack costs and the general improvement to Stretch Kick.
Rattata theoretically had a niche as a 20-for-1 attacker that resisted Psychic, but few serious decks would pick it over big normals like Lickitung or Kangaskhan. A new identity inspired by Magic's Relentless Rats opens new deckbuilding possibilities. 50-for-1 is incredible, but are you willing to fill your deck and bench with a 30HP Pokémon to take advantage of it?
Raticate maintains its original niche with Super Fang while also now serving as a great boss to a dedicated Rattata deck. Poison Spray is this format's sidegrade to PlusPower. You can't stack 40 damage in one turn any more, but you have synergy with effects like Raticate and any Abilities that care about Special Conditions.
Trainer Design Philosophy: Maintain and Buff​
Ask a player of another game what makes Pokémon stand out, and they'll mention cards like Professor's Research. With no sideboard, high-power draw and search cards are what keeps Pokémon decks running and able to run techs. Computer Search is a card I consider emblematic of Base Set Evolution: it's high-powered but allows skill expression via the discard. It's a card I want in the format, and that means other Items like Pokédex need buffs to stay relevant.
The introduction of Tools and Supporters also breathes new life into certain cards. Full Heal can now be used proactively against Poison, while problematic cards from the original format like Professor Oak, Gust of Wind, and Super Energy Removal can be reigned in to a once per turn effect.
Set Distribution​
Dumping over 200 cards at once makes it hard to parse the information. I want Base Set Evolution to be a playable format, and part of that means helping players process what's going on. So, much like Base-Fossil, I've split the cards into 3 distinct parts. I'll go into more details in the next posts, but here's the idea
Fresh Beginnings
is an 82 card set that shares the same goals as Base Set Evolution as a whole. Players looking to play the format should start here. You'll have access to the starters, various early game Pokémon like Beedrill, and the iconic Haymakers. With a focus on iconic Pokémon and simpler supporters focused on card draw, even brand new Pokémon TCG players should have a good time.
​
Journey
sets out to fill the format with powerful Evolution Pokémon representing a variety of strategies both old and new. Supporter cards here are targeted towards enhancing your strategy. For example, Gambler buffs the results of your coin flips, letting flip-reliiant attackers such as Beedrill and Sandslash deal more damage.
Lunar Eclipse
introduces "Lunar Pokémon", a subset similar to Light, Dark, or Plasma Pokémon. This set also introduces Stadium cards, but the main theme of this set is controlling tempo. Pokémon include big basics like Lapras and damage mitigators like Mr. Mime. The Supporter cards feature the retrains of Super Energy Removal and Gust of Wind.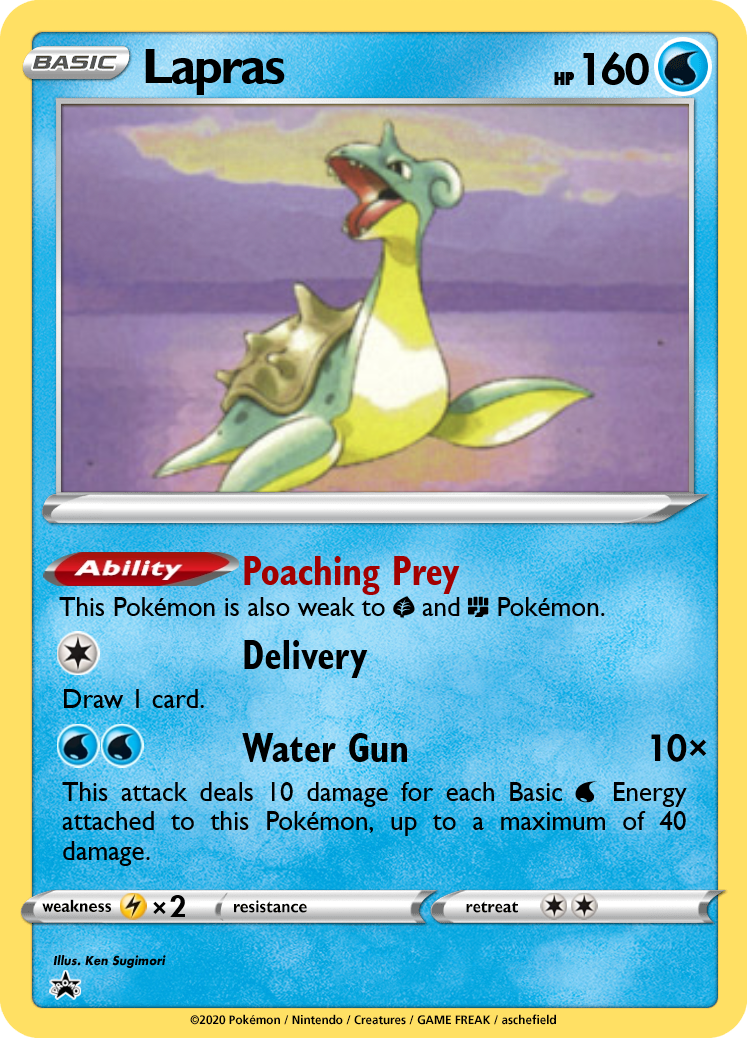 Last edited: