Scoop Up Net Banned in Japan!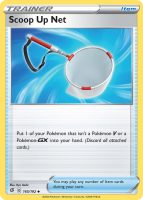 Creatures has announced Scoop Up Net from Rebel Clash will be banned from their Expanded tournaments starting this Friday, October 27th.
They did not give an official explanation for the ban. However, the card made it easy to scoop up Pokemon ex. At the time the card was created, it didn't work on Pokemon V and Pokemon-GX, but Pokemon ex weren't in Expanded yet. It was also problematic with older Pokemon-EX, but Creatures banned Shaymin-EX from Roaring Skies instead.
It's likely the ban will come to the international TCG like previous bans. However, TPCi has not allowed Premier Events to be sanctioned under the Expanded format since before Covid. This has left players outside of Japan feeling like the format has been abandoned. Even Pokemon TCG Live only supports a half-baked, incomplete version of the format.