"Trainer's Toolkit 2023" Revealed, Contains Arceus V and Arceus VSTAR!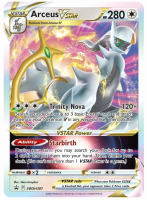 The latest version of the Trainer's Tookit has just been revealed! It will feature Arceus V and VSTAR, both with new promo artwork that hasn't been seen in Japan yet.
The toolkit will release on June 9th for $34.99. This is a $5 increase per TPCi's previous announcement. It will come with the same contents as previous toolkits, including useful Trainers and Energy, sleeves, dice, and game markers.
Keen-eyed Trainers will spot an error on the digital image for Arceus VSTAR. Trinity Nova should be doing 200 damage, not 120+! We're assuming the real card will be correct, but time will tell.
Everything You Need to Build a Powerful Deck!

Turn your card collection into playable, fun, and competitive Pokémon Trading Card Game decks! Inside this box, you'll find a plethora of Trainer cards and Energy cards, plus a Deck Builder's Guide to putting them all together to create a deck that showcases your best Pokémon! You'll find everything you need to help you make the choices every deck builder faces: More big Pokémon? More strategic Trainer cards? How much Energy is too much? Steer a course for completely new decks, original combos, and all the fun of head-to-head competition with the Pokémon TCG: Trainer's Toolkit!

The Pokémon TCG: Trainer's Toolkit includes:

More than 50 useful cards to power up your decks, including dozens of Trainer cards, Arceus V, and Arceus VSTAR
More than 100 Basic Energy cards
4 Pokémon TCG booster packs
65 card sleeves
A Deck Builder's Guide
6 damage-counter dice
1 competition-legal coin-flip die
2 condition markers (Burned, Poisoned)
1 acrylic VSTAR marker
A code card for Pokémon TCG Live