The Darkest Day Again — The Return of Eternatus VMAX
Hello everyone, and Happy New Year! The year may be different, but when it comes to the Pokemon TCG, the format is still the same as it was at the end of 2022 — no changes yet! In a few weeks, we'll get a couple of new cards with the release of Crown Zenith, but if you're playing at the upcoming Regional Championships in San Diego or Liverpool, you'll still be in the same Silver Tempest format as Arlington, Toronto, and Stuttgart. In Arlington, Lugia VSTAR proved itself to once again be the dominant deck of the format, and it should continue to be the deck to beat going forward. The other top-tier decks (Mew VMAX and Lost Box) are making up a solid but not overwhelming meta share, and a variety of Lugia VSTAR counter decks have continued to pop up. In Arlington, there were three other archetypes that managed to get more than two Day 2 placements: Regigigas, Arceus VSTAR, and the deck I'm going to talk about in this article, Eternatus VMAX / Galarian Weezing. 
Going into the Arlington Regional Championships, our local playgroup had a few different decks that we considered to bring. I was among the group that chose to play Regigigas, which, while it went well for some of us, did not go so great for me! The other option I was considering was a version of Eternatus VMAX that we had been working on, which I regrettably ended up switching off a few days before the tournament. The players who did end up staying on Eternatus VMAX ended up doing well; a few folks made Day 2, while the rest still did well enough to earn some Championship Points. All in all, Eternatus VMAX / Galarian Weezing managed to make five Day 2 spots, despite a quite low meta share. Eternatus VMAX made a few splashes with its strong results in Japan's Champions League Kyoto, but it had actually come on to our radar a touch earlier, as a result of Alexandre Gosselin's 38th place performance at the Toronto Regional Championships. Our list ended up resembling that one closely, with a few changes, as we felt it was stronger and more consistent than the lists we were seeing coming out of Japan. While it may have been one of the more unexpected archetypes to make a comeback, the recent results have shown that Eternatus VMAX is indeed a strong deck, and it's one that has a good chance of being added to the short list of predictable meta decks. It plays into the top meta decks well, and it has the kind of baseline stats needed to give it an edge into the wider Standard format. In this article, I'll be going over why Eternatus VMAX has been able to make this comeback, my list for the deck, and how to play it well. 
The Eternatus VMAX / Galarian Weezing Combo
Why Eternatus VMAX?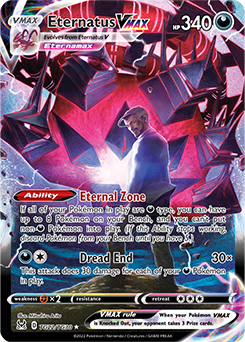 When I decided to play Kyurem VMAX for the Peoria Regional Championships, the philosophy behind my deck was this: if I can get OHKOs, and not get Knocked Out myself, then I'll win the game. With Eternatus VMAX, the philosophy is close to the same. Even now, managing to get a OHKO on an Eternatus VMAX is nigh impossible without hitting for Weakness, and without many Fighting-types in the meta right now, that leaves Eternatus VMAX in an excellent position to be able to tank at least one hit. On the flipside, Eternatus VMAX can get KOs quite easily, as it can OHKO every VSTAR with either a Choice Belt or a single ping from Galarian Zigzagoon's Headbutt Tantrum. The route to get to those OHKOs is slightly different from what you'd see when playing Kyurem VMAX, but the underlying idea is the same; I'll KO you, you won't KO me. 
Eternatus VMAX has had a bit of a rough run since it came out, mostly due to the fact that the format has been far less than ideal for it up until now. After two sets of Eternatus VMAX being a decent option, Battle Styles came out, and with it, Rapid Strike Urshifu VMAX. Since then, Eternatus VMAX has also struggled with popular decks like Origin Forme Palkia VSTAR, plus the popularity of Path to the Peak. It isn't until now that a format has come along that actually allows the strengths of Eternatus VMAX to shine through. Eternatus VMAX has the kind of aggression needed to hang with decks like Lugia VSTAR and Mew VMAX. With Fighting-type decks and Origin Forme Palkia VSTAR decks also being kept down by those two, it turns out that the Standard format meta as a whole is quite nice for Eternatus. For those that aren't quite as ideal, such as single-Prize decks like Lost Box or Regigigas, well, that's where the Galarian Weezing part of this deck really makes an impact.
Why Galarian Weezing?
Ever since it came out in Rebel Clash, Galarian Weezing has been a potent anti-meta card — in theory. Neutralizing Gas is an incredible Ability, one which has the potential to win games single-handedly if up against the right opponent. In our current metagame, Abilities are incredibly important, especially for the top-tier decks. Lugia VSTAR relies on Abilities for Energy acceleration, Mew VMAX relies on them for draw power, and Lost Box relies on them for both consistency and attack power. If you can shut down those Abilities early on, then each of those decks turns from rather formidable to rather weak. Even outside of the big three meta decks, most decks don't function well without being able to use any Abilities. Many matchups can be won by Galarian Weezing itself — in fact, you can even play quad-Weezing as its own stand-alone deck — but even if it doesn't go that far, Galarian Weezing can still do an excellent job of slowing down your opponent so that you can get in a position to win. 
By combining Galarian Weezing and Eternatus VMAX, you get a deck that can take two very different approaches to winning. If the Galarian Weezing strategy of hindering your opponent works, such as against Lost Box, then that's all you need to do. Likewise, if you can win by taking an aggressive tack, you can forgo the Galarian Weezing and simply rush your opponent down with Eternatus VMAX. In most cases though, what you can do is to start with Galarian Weezing to slow your opponent down, then beat them with the "I KO you, you don't KO me" strategy of Eternatus VMAX. This flexibility allows you to take on a wider range of decks, and helps to solve the problem that straight Weezing has of being a bit too meta reliant. Likewise, Galarian Weezing counterbalances the matchups of Eternatus quite well, as it tends to be great into the single-Prize decks that would traditionally give Eternatus VMAX trouble. The problems that a Galarian Weezing deck tends to have are mostly solved by the Eternatus VMAX part of the deck, and the problems that Eternatus VMAX tends to have are mostly solved by Galarian Weezing. The end result is that you are more or less playing two decks in one, but with an excellent synergy between the Pokemon that makes them far better than either would be individually.
---
This concludes the public portion of this article.
If you'd like to continue reading, consider purchasing a PokeBeach premium membership! If you're not completely satisfied with your membership, you can request a full refund within 30 days.
Each week we post high-quality content from some of the game's top players. Our article program isn't a corporate operation, advertising front, or for-profit business. We set our prices so that we can pay the game's top players to write the best content for our subscribers. Each article topic is carefully selected, goes through multiple drafts, and is touched up by our editors. We take great pride in our program!