"Pikachu on the Ball" Promo Releasing Tomorrow at GAME!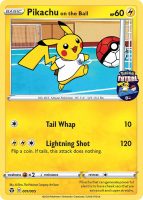 The "Pikachu on the Ball" promo will be available at GAME stores in England starting tomorrow, November 11th. Like past Pokemon Futsal promos, you can get it when spending £15 or more on Pokemon TCG merchandise.
Previously, Pikachu was only available to participants in the Pokemon Futsal program. This is the first time it'll be available to other Pokemon fans through GAME stores.
TPCi's promotion for England's Youth Futsal program started on September 11th, 2020 with the release of Pikachu to players. The rest of the "On the Ball" promos then released at GAME stores over the following months and years. Pikachu is the last to publicly release.
The five-card "Pokemon Futsal" set is exclusive to England. It will never release in the United States.