Break Evolutions, Mega Evolutions, Pokemon-EX in Upcoming 'XY: BREAK' Block!
As I posted two weeks ago, Blue Impact and Red Flash will be Japan's XY8 set and will be a part of the new "XY: BREAK" set block. The two sets will be released on September 25th and feature a new mechanic called "Break Evolution." Also releasing the same day are two 12-card packs called "Break Evolution Pack: Raichu Break" and "Break Evolution Pack: Noivern Break," as announced in the first news story.
We now have news that on October 9th, a 60-card deck called "Break Battle Deck: Golduck Break + Palkia-EX" will be released. The product image says "Use the Break Evolution and Pokemon-EX combo to achieve victory!" The deck will also come with a rule book, damage counters, coin, and playmat, all for 1,556 yen.
With the description above, it now seems that Break Evolutions are a thing like Pokemon-EX and Mega Evolutions. We have Golduck Break, Raichu Break, and Noivern Break. Now the question is what does the mechanic mean? Pokemon-EX are Basic Pokemon that are more powerful and give up two Prizes. What will Break Evolutions be?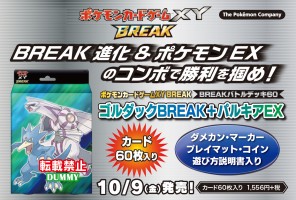 But that's not all on the roster! On November 20th, a "Double Mega Break Set: M Aerodactyl EX + M Mawile EX + Luxray Break" will also be released. It'll come with five booster packs of each mini-set and 14 original cards, all for 2,000 yen.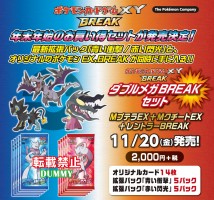 With both these products, we now know that Pokemon-EX, Mega Evolutions, and these new Break Evolutions will be part of the new XY: BREAK block. Exciting times are ahead, and still a lot of questions!
Thanks goes to Franco T. for the translations!