Team Aqua's Sharpedo, Team Magma's Camerupt from 'Double Crisis'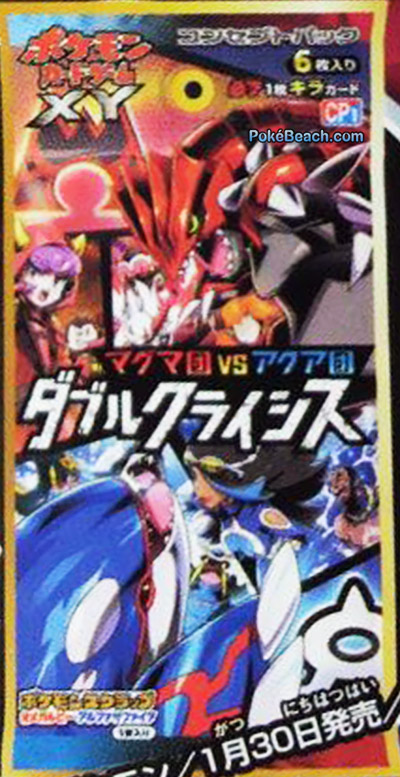 We have received additional exclusive photos of CoroCoro magazine and some further Double Crisis information ahead of the official Pokemon Card website's update! The card translations are below thanks to Bangiras!
The Team Aqua and Team Magma cards in this set will be marked with the team's logo in the background of the card. The image of the character who owns the Pokemon is also in the bottom-right corner of the card, being Grunts in the cases of Sharpedo and Camerupt. Perhaps admins like Matt and Tabitha will own some of the Pokemon in the set as well?
It appears Team Aqua's Kyogre-EX is #006/034 and Team Magma's Groudon-EX is #015/034, meaning they are not secret rares. The clearer images also confirms their translations from our last news story.
Double Crisis will feature 34 cards and comes in 6-card booster packs with one guaranteed holo in each pack.
Team Aqua's Sharpedo – Darkness – HP90
Stage 1 – Evolves from Team Aqua's Carvanha

Ability: Aqua Search
Once during your turn (before your attack), you may search your deck for a Pokemon with Team Aqua in its name, show it to your opponent, and put it into your hand. Shuffle your deck afterward. (Note: May be inaccurate, text is hard to make out.)

[D][C][C] Sharp Fang: 70 damage.

Weakness: Lightning (x2)
Resistance: none
Retreat: 0

---

Team Magma's Camerupt – Fire – HP110
Stage 1 – Evolves from Team Magma's Numel

Ability: Burndraft
Once during your turn (before your attack), you may choose 1 [R] or [D] Energy card from your discard pile and attach it to this Pokemon.

[R][C][C] Fireball: 60 damage. Move 1 Basic Energy attached to this Pokemon to 1 of your Benched Pokemon.

Weakness: Water (x2)
Resistance: none
Retreat: 3

---

Team Aqua's Kyogre-EX – Water – HP190
Basic Pokemon

Ability: Power Saver
If there are 4 or less Pokemon in play with Team Aqua in their name, this Pokemon can't attack.

[W][W][W][C]: Aqua Impact: 80+ damage. Does 20 more damage for each [C] in your opponent's Active Pokemon's Retreat Cost.

When a Pokemon-EX has been Knocked Out, your opponent takes 2 Prize cards.

Weakness: Grass (x2)
Resistance: none
Retreat: 4

---

Team Magma's Groudon-EX – Fighting – HP190
Basic Pokemon

Ability: Power Saver
If there are 4 or less Pokemon in play with Team Magma in their name, this Pokemon can't attack.

[F][F][F][C] Magma Quake: 80+ damage. If your opponent's Active Pokemon has any damage counters on it, this attack does 80 more damage.

When a Pokemon-EX has been Knocked Out, your opponent takes 2 Prize cards.

Weakness: Grass (x2)
Resistance: none
Retreat: 4