Musketeer Trio and Keldeo to be Featured in 15th Movie?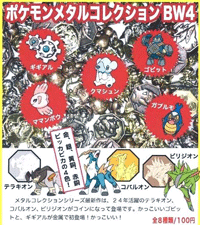 Upcoming merchandise releases strongly suggest that Cobalion, Terrakion, and Virizion will be featured in the 15th Pokemon movie (and by extension, Keldeo). The flier to the right states that the Musketeer Trio will have "activity in 2012," referring to the Pokemon franchise as a whole. A lot of big-name merchandise featuring the three is also scheduled for release starting in February, such as Takara Tomy figures, plushes, Bandai toys, and Plamo models – this kind of merchandise "hyping" only happens for a Pokemon movie. Last year, Entei, Suicune, and Raikou merchandise for the Zoroark movie began showing up around March; this year, Victini goods were rolling out by the end of February for the Victini movies. The evidence is almost enough to confirm their roles in the 15th movie short of an official announcement.
Some of the merchandise promoting Virizion, Terrakion, and Cobalion, such as this one for Bandai figures, also features the infamous "?" signs, which in the past have referred to "new" Pokemon. The next "new" Pokemon to be revealed is Keldeo, so this is likely who the question marks are referring to. Not only that, but if you're going to have a movie with the Musketeer Trio, Keldeo will almost certainly be included as it is the trio's fourth member in the video games. Despite this entire article, anyone could have predicted Keldeo would be the star of the next movie and that the Musketeer Trio would be included as well. Keldeo is the first "hidden" Legendary at the end of the PokeDex this generation, and each recent in-generation Pokemon movie has featured a hidden Legendary (#491 Darkrai in 2007, #492 Shaymin in 2008, #493 Arceus in 2009).
Since Pokemon teaser trailers usually come out around December, we'll probably get confirmation of this news within the next few weeks. Once we do, we'll know for sure that there will be a Keldeo distribution next year, its appearance in the TCG, etc. Thanks goes to Gin for compiling all of this evidence!