'Ring Drop' League and Fall 'Battle Road' Promos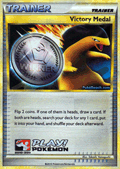 We have received word that the next Pokemon League season, which is to be named "Ring Drop," will continue the trend of releasing useful Pokemon cards to League players. For the "Ring Drop Season," players will be able to earn Donphan from HeartGold & SoulSilver and Spiritomb from Arceus. We'll provide scans as soon as we get them, but the cards will probably have the same holo treatment as this past year's League promos. The "Ring Drop" League season will begin September 27th; each season will be named after a Pokeathlon event and will feature a Pokemon that excels in that event (in this case, Donphan).
Additionally, we have received a scan of the new Victory Medal promo card that will be given to winners of the fall Battle Roads. This Victory Medal features Typhlosion, and since there is also a Meganium and Feraligatr version that was released in Japan, we'll probably get them in the future as well (perhaps one of them for the spring Battle Roads?). Thanks goes to Michael K. for the scan to the right; click it to enlarge it! It only took them three years to get rid of those old Pikachu ones!