Redshark 3.51 Released; First Official PokeBeach Redshark Tournament!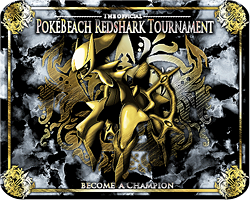 Redshark 3.51 has now been released! The update adds several new features to the program, the largest of which is compatibility with SteveP's Deck List program. If you are a Windows user, right-click and save this link to download the new installer; if you are a Mac user, save this link instead. The program will now install to "C:\redshark" for Windows Vista and Windows 7 users, so you will not have to manually change the installation path anymore. The list of changes and updates in this release can be viewed here.
And now for the exciting part! From now on, PokeBeach will be hosting official Redshark tournaments that will be advertised and promoted on this front page! The first official tournament starts this week and will be held on the forums. It will be split in to two different groups: members with zero to fifty posts will be in one tournament and members with over fifty posts will be in another. For the full tournament rules and to sign-up, please read this forum thread. You will obviously need to create a forum account if you do not have one yet. Registration ends Thursday night at 11:59 PM PST, so sign up ASAP!