'Gold and Silver' Remake Announcement… Next Sunday?!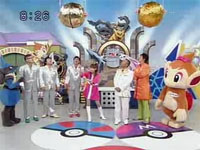 As reported a few hours ago, Pokemon Sunday's website says that on next Sunday's episode, there will be a major, world-first announcement. This announcement is going to take place during the show's "Pokemon Game Arena" portion, meaning it is related to the Pokemon video games. Obviously, the announcement is pertaining to a new game, since there is nothing "major" left to reveal about Diamond, Pearl, and Platinum.
At the end of the Pokemon Sunday episode that aired today (it's Sunday in Japan), next week's episode preview showed the cast pointing to two decorations hanging from the ceiling. What were the decorations shown? Gold and silver party balls, which subsequently broke open to release confetti. Obviously, the announcement next week is going to be very special!
Putting together all of the hints we've received over the past year or so, this upcoming Pokemon Sunday announcement, and the gold and silver party balls, it's fairly obvious that a Gold and Silver remake announcement is coming next weekend on the show. There's a small, small chance this announcement has nothing to do with a remake, but that is so unlikely with all of the hints and evidence that it's almost not even worth mentioning. November of this year marks the 10th anniversary of Gold and Silver, so it will be exciting if the games are remade!