Shaymin's Sky Form Finally Revealed?
EDIT: Made the story a little more cautious since we still do not know what this is a photo of (CoroCoro? A poster? Fan art?).
And all of those news stories may have finally proven themselves…
Heerosferret, our Japanese contact, has found a photo of Shaymin's sky form – the Japanese text next to it specifically labels it as "sky form," and it appears to have wings comprised of leaves.
We cannot confirm what this photo is of, such as the next issue of CoroCoro or a poster (since there is a finger in the bottom left pointing to Shaymin, making it seem like a poster), but what we do know is that Shaymin fits with the printing company worker's description from the other day, possibly meaning it is from the same printed material the employee saw. Shaymin is also drawn in Ken Sugimori's artwork style, and since his style is extremely hard to emulate to the degree of the below picture (in terms of shading, shadows, the colors of Shaymin, its overall style, and in making it in the first place without any references), it is probably safe to say that this is Shaymin's real sky form. Still, fan artists have been getting more talented lately, so you never know – it could be an elaborate hoax. We'll just have to wait and see.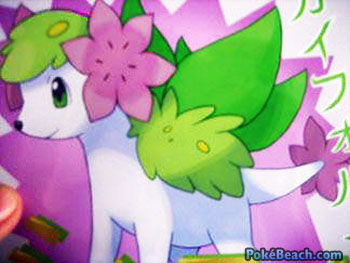 My little pony, my little pony…