DP82 Episode Title, Future Spoilers
The Japanese episode title for DP82, which will air in Japan on June 5th, is The Croagunk Festival of the Pastoria Great Marsh!? Crusher Wake, the Pastoria Gym Leader, will appear on the show for the first time in this episode.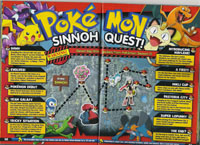 A few weeks ago, an Australian magazine revealed future "spoilers" for the 11th season of Pokemon. Most of the spoilers mentioned were already known from Japanese episodes that already aired, but some had not occurred yet (such as a "Croagunk festival" in a future episode). Since the magazine had a few errors, there was reasonable doubt of its reliability on these events, but now the newest Japanese episode title seems to legitimize the spoilers because of the Croagunk festival's confirmation (of course, not all the spoilers may come true, but the magazine now has at least some confirmed truth to it). It is odd that an Australian magazine would have information about the show before the Japanese episodes have even aired, but Pokemon USA could have already received information on the future episodes and released it to the magazine. Click the thumbnail to the right for a larger scan of the magazine pages, which discuss upcoming (and recent) spoilers of the show. Thanks go to DashingFox for the scan!