More DP Scans, Mystery Dungeon Sequel
More D/P Scans – More scans have been added to our [Diamond and Pearl scan page], and more will come either later tonight or tomorrow. These scans were sent to us by TorterraKing, and half of them were edited by Shakespeare, since I am still trying to study for my AP/IB Bio tests tomorrow. If you have any cards we are missing, please scan them at 300 DPI (or, if you do not know how to do that, about 1.5x larger than the current scans), give us your name, and send them to [email protected]. Thank you!
---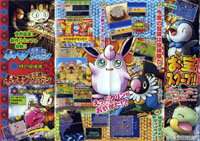 Mystery Dungeon Sequels – Thanks to NGCFrance and Filb.de, we now know of two Pokemon Mystery Dungeon sequels that are going to be revealed in next month's issue of CoroCoro, the two games being named Time Expedition and Darkness Expedition (click the CoroCoro scan to the right for a larger picture). The two games will be different from the previous Mystery Dungeon series in that the player must join a guild to train and become more powerful, with the guild leader being Wigglytuff, and its right-hand Pokemon being Chatot. This time around, however, the purpose of the games will be to explore and find treasure, rather than to rescue, as with the previous Mystery Dungeon games. The player will also be able to choose their character from either Munchlax, Pikachu, Piplup, Chimchar, Turtwig, as well as 11 other Pokemon not yet known. The two games will be released sometime this fall, and it is presumed they will be Wi-Fi compatible.