Sorry for not updating this weekend. I was busy with schoolwork and family time.
---
Sweet Baby James – I forgot to set my recorder on Saturday, so I missed the two new episodes. However, I managed to catch the re-run of "Sweet Baby James" today (at 5:30), and since I did not post it last week, I figured I would now. [Click here to view]. Cartoon Network will be showing re-runs every Sunday at 5:00 and 5:30 PM, so if you miss an episode, you can catch them there!
---
Site Suggestions – We will have several surprises within the next few weeks, mostly related to site content, and I am sure most of you will be happy with what we will be doing. However, in the mean time, we need some site suggestions and feedback from you guys! Sometimes I feel like I have to guess what you guys want, and it's so annoying to figure it out, especially since NO ONE TELLS ME (except those few of you that e-mail me). So, if you have any site suggestions or feedback, you can post them in this thread. As soon as next month starts, I am going to be extremely busy with school, more than I have ever been in my entire life (with college admissions and all), so I have to get to work now if I want to get anything done. Post away!
---
New Shinou Map – This map is highly detailed and shows how large the region of Shinou truly is! It seems like it will be a diverse region, as usual, and pretty packed. Click the thumbnail below for a larger image.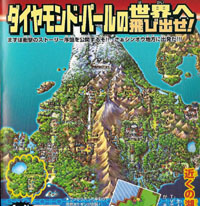 ---
Pikachu on MSN – First Pokemon was on Wikipedia's front page a month or so ago, and now it made it to MSN.com's front page! This was on Saturday, by the way. Power to Pokemon! Click the thumbnail for a larger picture.